Share this page?
Cookie Policy
Visiting this site
involves cookies!
To find out more please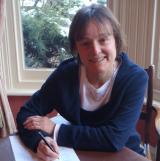 About Anna Pugh
Additional Information About Yourself
I first saw Dr.Bridgett in 1991-92 and, with the help of the combined approach, he helped me begin phase 2 of my life which was living without eczema. He opened the doors to skin education and taught me to how to be in control of my skin and therefore my life. I now work as a nutritionist which is an extension of my interest in the relationship between food and health. I set out hoping that food and allergies were the answer to my eczema and 10 years later I find that they are only a part of the answer. A combined approach to skin is the answer and I have an equally healthy respect for what I put on my skin as to what I put in my mouth. I have 3 children who miraculously do not have eczema; the genes have just missed this generation and I'll be ready and armed for the next.
Tell Us How You Like This Site
This site is easy to navigate and I'm no expert. The layout is excellent and I'm looking forward to adding to the discussion forum.