1989-2019 Habit reversal for atopic eczema in the UK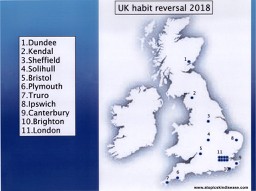 2019: A milestone for habit reversal and The Combined Approach to atopic eczema
In 1989 at Westminster Hospital, London UK, habit reversal was first introduced as part of The Combined Approach to treating chronic atopic eczema. In 1993 the service moved to the new Chelsea & Westminster Hospital. The training video "Live Without Eczema", and "Atopic Skin Disease - A Manual For Practitioners" were published in 1995 and 1996, and in 2002 the self-help book "The Eczema Solution" by Sue Armstrong Brown was published. AtopicSkinDisease.com first went online in 2011.
In 2018 there were ten centres offering habit reversal outside London and eight in London. This clinical provision now extends from community services through to tertiary clinics, and involves nurse practitioners, family doctors, clinical psychologists, dermatologists and psychiatrists. This expanding activity has been enabled by a number of training events, including especially those organised by the British Dermatological Nursing Group, the UK Primary Care Dermatological Society and PsychodermatologyUK.
This year's Combined Approach training opportunity is coming up fast!
UNIVERSITY of HERTFORDSHIRE
Dermatology Behaviour Modification Workshop
Half day workshop suitable for health care professionals
involved in managing patients with inflammatory skin conditions
wanting to learn about habit reversal techniques
References
Habit reversal: a turning point in the treatment of atopic dermatitis
Norén P (1995) Clin.Exp.Derm. 20, 2-5
Psychodermatology and Atopic Skin Disease in London 1989-1999 - Helping Patients to Help Themselves
Bridgett,C (2000) Dermatol Psychosom 1: 183-186