From the clinic: Before we start habit reversal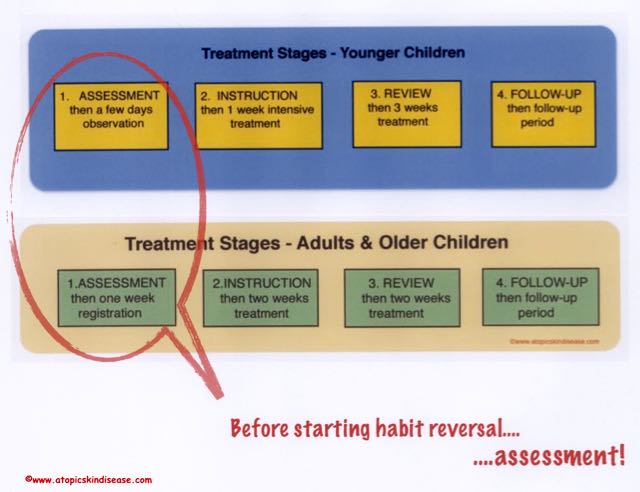 When we see patients in clinic for The Combined Approach we find it great when colleagues can sit in to see how it is done. Teaching is good when it is a two-way process. By talking through our protocol with others we refine our thinking about what we have discovered works best for us in clinical practice.


This last week it was useful to review with a colleague the important stages that assessment involves, before starting habit reversal:


So, in primary care atopic eczema is usually managed in the acute phase successfully, with emollients and topical anti-inflammatory treatment. When atopic eczema becomes chronic and troublesome, and evidently relatively unresponsive to treatment, a referral to secondary care may be necessary.
In the dermatology clinic we regard it important first, when assessing chronic atopic eczema, to review the current management of dry skin: is the use of emollients adequate, and are they being used as soap substitutes, with application to the skin before contact with water? Secondly, we review common trigger factors, especially the possibility that allergy to house dust mite is part of the picture. We usually use a blood test for this, and if such allergy is discovered, we attach importance to reducing contact with this troublesome antigen. Only then do we talk about the importance of habitual scratching and habit reversal.


In the habit reversal clinic

the

first visit begins with a review of the previous experience with atopic eczema, its treatment and its effect on quality of life. Negative attitudes are likely to result from previous failures in treatment. Success with The Combined Approach is increased with early explanation that the troublesome experience to date can now be soon brought to an end with a fresh, intensive treatment programme: passive pessimism needs replacing with active optimism. As therapists we see success with The Combined Approach on a regular basis - it is easy for our attitude to be positive, and we are glad that our patients find this attitude contagious! As well as attitude, we also recognise from the start that living with chronic eczema is stressful, and stress is a potent factor in maintaining the chronicity of long-term, troublesome, and apparently treatment-resistant atopic eczema. The Combined Approach is however an important and very relevant problem-solving intervention. As the programme is quickly stress-relieving for most, other tactics for tackling stress are not usually required.

There is more to The Combined Approach than habit reversal. The experience of chronic atopic eczema is stressful and dispiriting - both for the patient, and for many practitioners. Because results with conventional treatment are disappointing, basic principles of treating atopic eczema become relatively neglected. This needs taking into account before strting habit reversal.



The Combined Approach = optimal conventional treatment + habit reversal




See also